Domain | Written by Kate Jones
More often than not, a residential building is designed around a preconceived vision. It could be a sculptural shape or the colour of the exterior – factors that are decided long before a site is found.
Its then a matter of making some minor tweaks to the design before the building is constructed and, hey ho, job done.
However, some developers adopt the reverse approach, taking cues from the land before the design work begins. Everything from trees to the direction of the morning sun is taken into account so the finished product works in harmony with its surroundings.
It's part of and urban development described as nature-based cities by Hamton Property Group executive chairman Paul Hameister.
"We're always looking for opportunities to retain trees, to plant new trees, to include new green open space – not just concrete and pavement but living landscape – and to incorporate that on roofs and to incorporate it on balconies and just bring as much living nature into our developments as possible", he says.
Hameister points to Hamton's Trackside House at Moonee Valley Park as an example of a nature-first approach. The development's 204 apartments will sit within 20 hectares of parkland just six kilometers from Melbourne's CBD.
The building will have racecourse frontage and open up to Stonepine Square – a Mediterranean-inspired piazza built around 125-year-old Italian stone pine trees and featuring a barbeque, picnic facilities and public artwork.
The proximity and accessibility to such green open spaces have obvious ecological benefits and sustainability benefits.
But it was the potential impact on residents' health and community connection that proved to be a guiding light for the landscape design, says Tract executive director and landscape architect Janis Fischer.
"The vision that we had for the whole development was to create a neighbourhood within a park," she says.
"So often, a lot of these projects we work on, we put a park in the middle of the neighbourhood.
"But in this case, we were saying, 'Well, let's just treat the whole site as a park.'
"So, instead of having your typical conventional neighborhood, we made a decision that we would really minimise the impact that cars had on the neighbourhood by putting them into basements around the perimeter."
Fischer says this means the whole neighbourhood can be "very much a pedestrian-based experience, that you can walk out your door, and you can enjoy gardens, and parks and pedestrian streets, rather than neighbourhoods clogged with cars, asphalt and concrete".
And the landscaping wouldn't be complete without a nod to the racetrack's famous blooms. Flowers designed to come out in spring have been planted on the raceway interface.
Construction of Trackside House is expected to be finished in mid-2025.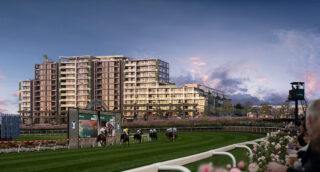 At A Glance
Architect – Rothelowman
Developer – Hamton in partnership with Hostplus and Moonee Valley Racing CLub
Interior Design – Carr
Number of residents – 204 apartments. 72 one-bed; 77 two-bed; 49 three-bed; 6 four-bed
Completion estimate – Mid-2025
Agent – Hamton, Tracey Bradshaw 0413 282 999 in conjunction with Three Sixty Property Group, David Stewardson 0448 312 626
Open for inspection – By private appointment. Display Suite at Thomas Street, Moonee Ponds.