The official opening of the 5,000sqm Tote Park will contribute to enhancing the liveability of Melbourne's inner-north, while fulfilling the wishes of the local Moonee Ponds community for greater access to green public space.
Students from Moonee Ponds Primary School will plant the final tree of Tote Park's landscaping scheme – comprised of 67 new mature trees, 315 shrubs and around 4,000 groundcover plants – in a gesture conveying the community's shared ownership of the botanical space.
Tote Park has been delivered by Hamton Property Group and Hostplus, together with Moonee Valley Racing Club, as the first amenity to be completed within the $2 billion, 40-hectare re-development of Moonee Valley Racecourse.   Tote Park will open up the site for the first time to the surrounding community, creating a welcoming new entrance to the neighbourhood within a park.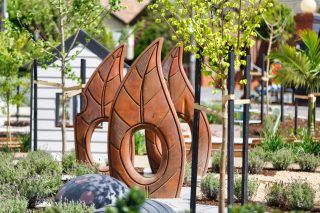 Green open space has never been more valued by Melbournians, with a recent survey by the Victorian National Parks Association revealing that over 50 per cent of Victorians value access to natural areas and parks more as a result of Covid-19 restrictions.  Tote Park itself is the fulfilment of the local community's the strong desire for more public open space, which was highlighted by Moonee Valley Park's annual survey of local residents.
Designed by Tract Landscape Architects, Tote Park features open grassy lawns with serpentine gardens, plus a 'nature playground' for families that includes a Lavender maze, timber crawl throughs, interactive tulip sculptures, sound tubes, a sand play area and a 'florist shopfront'.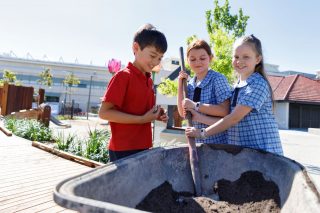 The design encourages adults and children alike to observe and interact with nature, with a rolling western lawn for active pursuits, a series of smaller spaces for reflection amongst the historic roses, and recreational areas for enjoyment with friends, family or neighbours overlooking the nature playground.
Tote Park will be further activated with the MOVE Program, a health and fitness initiative offering the local community free bootcamp, running and mobility classes, commencing 1 December.  MOVE will be delivered by Moonee Valley Park in partnership with a local operator, with limited spots available in keeping with COVID safety requirements and restrictions.