In what is a momentous milestone for Moonee Valley Park, we are beyond excited to have welcomed our very first residents to the community.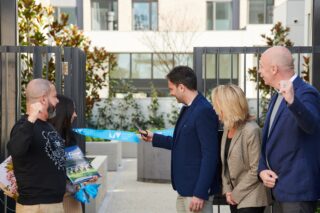 We invited new resident Sam and his wife Chante to officially open Feehan Row with Hamton and Moonee Valley Racing Club. Sam, a Restaurateur himself, had visited Tote Bar & Dining several times before deciding to purchase at Feehan Row. He was drawn to Moonee Valley Park's green open space, walkability and design quality. He is looking forward to going for long walks about his new neighbourhood with his wife.
Residents of Moonee Valley Park will be spoilt for choice regarding recreational and active pursuits, with bike paths, walking trails, sporting fields, playgrounds, and green community spaces also offered within the broader Moonee Valley Park precinct, including the already completed 5,000sqm Tote Park, alongside the recently opened TOTE Bar & Dining.
Following the sell-out success of Feehan Row, and the debut apartment building, Thomas Street, the next evolution of Moonee Valley Park is now selling. Stonepine House features 1, 2 and 3 bedroom residences surrounded by 20 hectares of greenery.
For more information on Stonepine House and future releases, please click here.