Trackside House at Moonee Valley Park, the anticipated first track-facing residential offering at the $2 billion redevelopment of Moonee Valley Racecourse, has defined challenging market conditions to generate approximately $100 million worth of pre-sales. A waitlist of Hamton VIP purchasers received priority access to buy from October last year, with the official on market campaign launching to the public only eleven weeks ago.
The strong pre-sales results come of the back of similar success for the team behind Moonee Valley Park, with previous stage Stonepine House now over 80 percent sold.
The two buildings, which share the same basement, have a combined end value of around $320 million and will be built together as part of a single contract. Icon has been appointed as builder, and construction will commence in May – making Moonee Valley Park on of the few significant build-to-sell projects moving forwards in Melbourne.
Trackside House was designed by architect Rothelowman and interior design studio Carr and continues to with the biophilic theme of Moonee Valley Park. The project is designed to be a neighborhood within a park, with around half of the masterplan dedicated to botanical parklands and open space, that prioritises the lifestyle benefits of living amongst nature.
Residents will also have access to rooftop amenities featuring infinity pool, residents' lounge, private dining, business lounge and a state-of-the-art wellness sanctuary- equipped with glass-walled yoga room, therapy room, sauna and full equipped gym.
The development team attributes the strong results to Trackside House's biggest point of difference – its dedicated track-fronting views of Moonee Valley Racecourse and to the CBD, offering an unparalleled vantage point down what will be the new finishing straight for each race meet each year, including the iconic Cox Plate.
Hamton Property Group Executive Chairman Paul Hameister said the overwhelming sales demand has primarily been from downsizing locals.
"Melbournians are very loyal to the areas and communities in which they have grown up and raised families. There are very few premium offerings for downsizers in Melbourne's inner-north-west and we have sought to address that with Moonee Valley Park.
"The typical buyer in Trackside House has been an affluent local rightsizer. They are unaffected by the prospect of higher interest rates as they are cash buyers, selling a large home with little or no mortgage and after purchasing one of our homes, they have cash set aside to invest for retirement.
"All of our buyers at Moonee Valley Park have been drawn by the appeal of living within an extensive new parkland, just 6km from the CBD.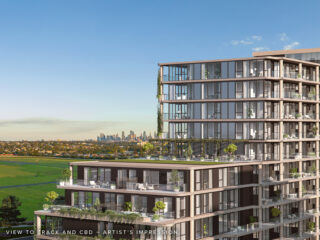 "Many of those buyers in Trackside House also have a connection to Moonee Valley Racing Club, which has been such an integral part of this local community for 140 years.
"We are also seeing some astute investors returning to the market, but with a new perspective in that they are wanting to buy homes where there is a strong exit strategy to owner-occupiers".
'The runaway success of Trackside House reiterates the importance of a unique point-of-difference that sets a project apart from commodity-style apartment projects, particularly in this current stage of the market cycle," he said.
Moonee Valley Park is a joint venture between developer, Hamton and leading superannuation fund Hostplus, in partnership with Moonee Valley Racing Club(MVRC). The project is transforming Moonee Valley Racecourse into a global benchmark for botanical-led living and the new premium neighborhood of Melbourne's inner north.
Moonee Valley Park launched to market in August 2019, and has since delivered two completed residential stages as well as amenities including Tote Park and TOTE Bar & Dining – with the first residents moving into their new homes in 2022.
A further stage will complete construction later this year.
Article written by Australian Property Markets.